The education system in Singapore has been consistently ranked as one of the highest in the world by the Organisation for Economic Co-operation and Development (OECD) – so it should be no surprise that the universities in Singapore are elite institutions as well! In fact, both the National University of Singapore (NUS) and Nanyang Technological University (NTU) consistently ranks amongst the top universities in both the world and Asia.
The QS World University Rankings, an annual publication of university rankings by Quacquarelli Symonds, names the world's top universities for the study of 51 different subjects and five composite faculty areas. In the 2021 QS World University Rankings, both NUS and NTU were in the top 15 universities in the world. The Singapore government prioritises education as a key driver for the country's economic development and spends about 20 percent of the national budget on education, subsidising public state education and government-assisted private education programmes.
The culturally diverse melting pot of Singapore attracts around 50,000 foreign students from Asia-Pacific and the rest of the world each year. Despite being one of the most expensive cities in the world, Singapore ranks in the top 20 of the QS Best Student Cities 2022. The high quality of life, status as a financial and economical hub and proximity to tourist hotspots in Southeast Asia (think, Bali and Thailand) all makes Singapore an attractive location for students pursuing higher education.
We've rounded up a list of the top universities in Singapore, as well as the admission process and everything you might need to know about being a student on the sunny island!
*Rankings are based on statistics from the QS World University Rankings 2021.
Top universities in Singapore
1. National University of Singapore
Rank (as of 2021): #1 in Singapore, #11 in the world
Fun fact: Did you know that actress Janice Koh, who played the role of Felicity Leong in Crazy Rich Asians, was actually an alum of NUS? Founded in 1905, the National University of Singapore (NUS) is the oldest autonomous university in Singapore. According to several global rankings, it is considered to be one of the best universities in the Asia-Pacific and in the world.
A comprehensive research university, NUS offers degree programmes in a wide range of disciplines at both the undergraduate and postgraduate levels, including in the sciences, medicine and dentistry, law, arts and social sciences, business, computing and engineering – amongst a plethora of other disciplines. Distinguished alumni from NUS includes four Singaporean Prime Ministers and Presidents, two Malaysian Prime Ministers and several notable business leaders and heads of states.
International students make up over 20 percent of the total student body at the National University of Singapore, which means an average of around 7,000 students from over 100 countries each year! NUS also offers various student exchange programmes, entrepreneurial internships at nine NUS Overseas Colleges, and joint or double degree programmes with top universities. In fact, nine out of ten NUS graduates take part in study-abroad programmes with over 300 universities in more than 40 countries.
National University of Singapore
Address: 21 Lower Kent Ridge Rd., 119077
Tel: 6516 6666
Opening hours: 9 a.m. to 9 p.m. (Mon. to Thu.); 10 a.m. to 5 p.m. (Fri.)
2. Nanyang Technological University
Rank (as of 2021): #2 in Singapore, #13 in the world
The other pillar of higher education in Singapore is Nanyang Technological University (NTU), the second oldest autonomous university in Singapore. Much like NUS, NTU consistently ranks within the top 50 universities in the world and has been ranked as the overall first in the QS World University rankings of young universities since 2015.
The university is organised into several colleges including: Nanyang Business School, Lee Kong Chian School of Medicine, College of Humanities, Arts and Social Sciences and National Institute of Education. NTU's main campus covers over 200 hectares of land, making it the largest university campus in Singapore. Times Higher Education has listed Nanyang Technological University's School of Art, Design and Media (ADM) and the Learning Hub amongst the top 10 most beautiful university campuses in East Asia. Designed by Thomas Heatherwick, the Learning Hub is made up of clusters of rooms set in angled concrete columns that, from the outside, resemble stacked dim sum steamer baskets.
With an international student population of over 6,000 students, NTU is home to a diverse community of young, passionate individuals. There are also more than a hundred student organisations ranging from Sports or Arts Clubs, Welfare Clubs and even clubs for various religions and interests! Given the diversity of opportunities the school provides, you are sure to find like-minded peers at this beautiful university!
Nanyang Technological University
Address: 50 Nanyang Ave., 639798
Tel: 6791 1744
Opening hours: 8:30 a.m. to 6:30 p.m. (Mon. to Fri.)
3. Singapore Management University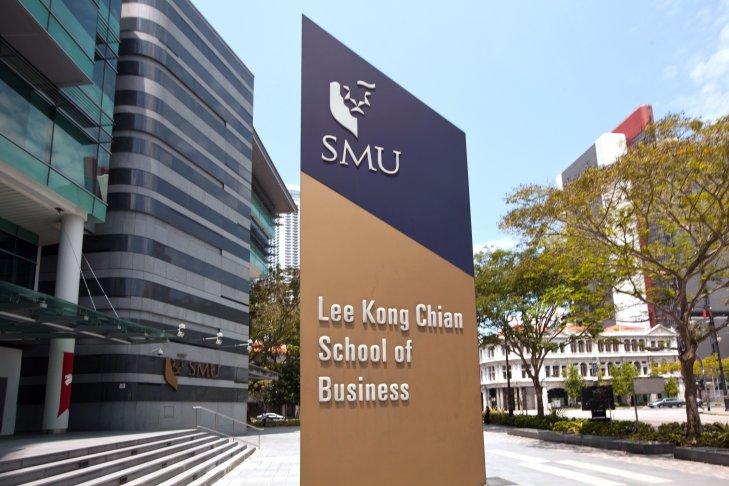 With a style of education modelled after the Wharton School (University of Pennsylvania's Business School), Singapore Management University (SMU) is the country's first publicly-funded private university. Unlike other public universities in Singapore, students at SMU can complete degree programmes in three-and-a-half years. It's city campus is situated in the main commercial area of Singapore and students can enrol in both undergraduate and graduate degree programmes in business administration, business analytics, financial services, accountancy, law, information systems management and the social sciences – offered by six different schools.
Founded in 2000, SMU is a relatively young university. Despite this, the university has been steadily climbing up global university rankings. In Asia, SMU is ranked third by Tillburg University's Top 100 Worldwide Economics School Research Rankings. The 2021 QS Specialist Universities of the World ranking also places SMU at the 12th spot. In fact, SMU's Lee Kong Chian School of Business is one of the youngest business schools in the world and the only Singaporean business school to achieve the 'triple crown' accreditation by the AACSB, AMBA, and EQUIS.
Unlike NUS and NTU, SMU follows a course credit system similar to that used in most American universities. Each individual course within the university is assigned a certain credit weightage and students are usually required to take a specified number to units in order to meet graduation requirements. Classes are generally conducted as small group seminars (usually under 50 students) to allow for a higher degree of interactive discourse between students and instructors.
Singapore Management University
Address: 81 Victoria St., 188065
Tel: 6828 0100
Opening hours: 8 to 12 a.m. (Mon. to Sat.); 1 to 9 p.m. (Sun.)
4. Singapore University of Technology and Design
Founded by the former Dean of Engineering at the prestigious Massachusetts Institute of Technology, Singapore University of Technology and Design (SUTD) is Singapore's fourth public autonomous university. Established in collaboration with MIT to advance knowledge and nurture technologically grounded leaders and innovators, SUTD has a primary focus on Design – achieved through an integrated, multi-disciplinary curriculum. Riding the tech-wave, SUTD aims to sustain a culture of innovation, leadership and entrepreneurship.
Unlike the other universities mentioned thus far, SUTD adopts an interdisciplinary approach in structuring their curriculum and research. Instead of having departments organised along traditional disciplines as separate schools or faculties, the undergraduate and graduate programme is offered through four pillars and two clusters in the following areas:
Pillars
Architecture and Sustainable Design (ASD)
Engineering Product Development (EPD)
Engineering Systems and Design (ESD)
Information Systems Technology and Design (ISTD)
Clusters
Humanities, Arts and Social Sciences (HASS)
Science, Mathematics and Technology (SMT)
Singapore University of Technology and Design
Address: 8 Somapah Rd., 487372
Tel: 6303 6600
Opening hours: 8 a.m. to 6 p.m. (Mon. to Fri.)
5. Singapore University of Social Sciences
Previously known as SIM University, Singapore's only private university, Singapore University of Social Sciences (SUSS) has since been conferred autonomous status. This signalled the Singapore government's increasing support for the university and allows it to meet national education objectives as well as economic and social development – whilst having its financial performance be monitored.
The restructuring affects not only the branding of the university, but the courses offered at an undergraduate and graduate level as well. Mainly, SUSS retains a limited selection in business and engineering programmes, whilst increasing its offerings in social science programmes. All programmes will include social and community impact-based curricula, and students will have to partake in a compulsory module in social sciences.
SUSS also collaborates with a multitude of overseas universities to offer a diverse range of programmes. Partners include Beijing Normal University (Masters of Arts in Chinese Language and Literature), Embry-Riddle Aeronautical University (Bachelor of Science in Aviation Maintenance), Justice Institute of British Columbia (Minor in Paramedicine and Emergency Response) and many more!
Singapore University of Social Sciences
Address: 463 Clementi Rd., 599494
Tel: 6248 9777
Opening hours: 7:30 a.m. to 7:30 p.m. (Mon. to Sat.)
Admissions process for universities in Singapore
1. Admission criteria
Generally, the admission criteria for universities in Singapore requires applicants to have completed at least 12 years of general education or will be taking their High School national examinations in the year of application, in order to be considered. Whilst the requirements may differ slightly from school to school (for instance, applicants to SUTD are encouraged to have strong competency in mathematics and the sciences), most universities in Singapore will accept school-leaving results such as the SAT, ACT, GCSE A-Levels and International Baccalaureate Diploma.
Aside from your academic transcript, universities in Singapore might also require you to submit any relevant testimonials or recommendation letters you possess, or any supporting documents of past experiences in co-curricular activities (for instance, sports or relevant internships) that can be taken into consideration for admission. Depending on the school you are applying for and the number of applicants you are up against, a pre-admission test or interview can also be administered.
As all degrees in Singapore are taught and assessed in English, and you will need to show excellent language proficiency in order to apply to any of the universities in Singapore. Whilst standardised tests like TOEFL or UCLES are the most prevalent tests in Singapore and are accepted by most universities in Singapore, other tests such as PTE Academic can also be accepted. You would have to score for these language tests as proof of your language proficiency. Note: This only applies if your nation of nation does not have English as the first language/mode of education.
2. Application period and semester dates
Unfortunately for international students, there isn't a one-stop portal for applications to all universities in Singapore. The process, however, remains relatively easy as each Singapore university has a list of acceptable high school qualifications and applicant group types on their website. Applications are done online and you just have to select your corresponding high school qualification, fill out the online application form and pay a small fee (ranges from $15 to $30). Do remember that all supporting documents have to reach your university of choice's Office of Admissions by the application closing date.
In terms of application periods, this timeframe differs for universities in Singapore depending on your high school qualification and your university of choice. As a general trend, applications tend to open in October (for admission to the following year) and close in March. However, it is best to refer to each university's website for the latest updates regarding application timelines. Results are generally released in May, however, applications can be accepted as late as mid-July.
3. Tuition fees and scholarships
The Singapore government mostly subsidises public universities. Therefore, public autonomous universities in Singapore could offer selected students admission at a reduced tuition fee. In general, international students are charged higher fees than local Singaporeans at all universities in Singapore. At all levels, humanities and social sciences degrees tend to cost the least, whilst laboratory and clinical degree programs are more expensive. The table below compares tuition fees for accounting and finance programmes of the five autonomous universities listed out above:
| University | Programme | International Students (Subsidised) | International Students (Non-Subsidised) |
| --- | --- | --- | --- |
| National University of Singapore (NUS) | BBA Accountancy (3 years) | 20,550 | 32,250 |
| Nanyang Technological University, Singapore (NTU) | Bachelor of Accountancy (3 years) | 20,100 | 36,830 |
| Singapore Management University (SMU) | Bachelor of Accountancy (4 years) | 24,500 | 43,870 |
| Singapore University of Technology and Design (SUTD) | Undergraduate (4 years) | 27,950 | 60,455 |
| Singapore University of Social Science (SUSS) | Bachelor of Accountancy | 22,000 | 33,440 |
Based on 2019 figures, calculated per annum and inclusive of local tax.
The Ministry of Education Singapore offers subsidies for international students who study at a local public university. Under the Tuition Grant Scheme, international students will be required to work in Singapore-registered companies for a minimum period of three years upon graduation. Application for a Tier C Tuition Grant is part of the online university admission application. Do note that there is a limited number of Tuition Grant available for international students, making selection highly competitive and merit-based. You can obtain a sample of the Tuition Grant Agreement here.
4. Accommodation
There is a variety of options when it comes to international student accommodations for universities in Singapore. Such options include: University dormitories, shared apartments or single apartments. Students can choose the best option for you based on your personal needs, budget and preference.
Most public universities in Singapore offer some form of student accommodation for international students. Generally, dormitories are the cheapest and most popular choice of accommodation for international students due its accessibility to university buildings. In addition, student living in dormitories can partake in a variety of social activities such as hanging out in campus spaces, sports and various activities. However, do note that places for these dormitories are usually competitive (although priority would be given to international students) and hence students should apply early to secure a spot. Check if the university you are applying for has a dormitory option!
Private accommodations outside of the university is also a viable option in Singapore. Whilst the cost of living can be slightly higher than student dormitories, students benefit from having their own room in a shared apartment or an entire apartment to themselves. Private apartment rental prices range from upwards of $3,500, however, this cost can be reduced to around $1,000 per person if you share the apartment with fellow students. Government housing flats (HDB) can be a cheaper alternative – with room rental prices starting at $500 a month and flat rental prices starting at $1,500 a month.
5. Additional costs
Health insurance
Generally, most public universities in Singapore offer university-wide insurance schemes for students. In fact, all full time undergraduate and graduate students will automatically be insured by the university after admission. The scheme ensures students are covered with basic medical and personal accident insurance coverage. As the extent of coverage can differ from school to school, it is always recommended to have your own international private medical insurance to ensure that you receive timely care.
Student visa
You will require a student visa to study in any of the universities in Singapore. Once you've been admitted, application for the Student Pass visa can be done online via the Student's Pass On-line Application and Registration (SOLAR). After this, you should receive an in-principle approval (IPA) letter which incorporates your visa and is crucial to get through Singapore custom checkpoints.
Note that upon arrival, all students have to undergo a medical examination and will be screened for HIV and Tuberculosis. For those pursuing a medical degree, compulsory Hepatitis B and C screening blood tests will also have to be administered. Check with both the Singapore embassy in your home country and the Immigration & Checkpoints Authority regarding student visa issues.
Cost of living
Being one of the most expensive cities in the world, the cost of living in Singapore can be high when compared to other Southeast Asian and Asian countries. The estimated costs of living for international students in Singapore ranges from $1,000 to $2,500 per month, depending on lifestyle, choice of accommodation and your course of study.
However, there are many scholarships and grants available for international students – whether offered by the university or private industries. In addition, students in Singapore under a Student Pass visa are allowed to work for up to 16 hours part-time or full-time in between terms without a work permit.
Feeling ready to make the big move?
Head over here to begin your journey
Or start ticking off your relocation checklist here
Still unsure?
Learn more about Singapore here
Explore more destinations here