International schools in Melbourne are usually the top choice for most expat families because parents want their children to continue a curriculum identical to their home country or they wish to expose their kids to various cultures and other expat communities. They are also popular among families who move a lot because a globally recognised curriculum, like the International Baccalaureate (IB), would make for an easy transition to and from other schools worldwide.
If you're on the hunt for a good international school, Melbourne has a handful of excellent options, all of which provide world-class education that takes kids from their early learning years to pre-university level. You will also find that most international schools in Melbourne only offer the IB programme, except for a few such as the French, German and Japanese schools. Depending on your child's needs and preferences, you can consider enrolling your child in some of these top international schools in Melbourne.
1. Wesley College
Since 1866, Wesley College has been delivering the IB curriculum to its students from early childhood to young adulthood through three school structures – Junior, Middle and Senior. As such, pupils aged three to Year 6 undergo the IB Primary Years Programme (PYP); Year 7 to Year 10 students learn within the framework of the IB Middle Years Programme (MYP); and those in Years 11 and 12 will study towards either the IB Diploma Programme (DP) or the Victorian Certificate of Education (VCE).
Boasting three campuses in Melbourne, Wesley is home to over 3,400 students across Australia and the world. More than 40 percent of Wesley's teaching staff have postgraduate qualifications, too, and they combine in-depth curriculum knowledge and real-world experience in their teachings – so your child is in good hands.
Ultimately, Wesley College is committed to providing a breadth and depth of knowledge to each child to help them realise their full potential. The school also aims to develop holistic individuals through academics, extensive co-curricular programmes and a strong focus on pastoral care.
Annual school fees for international students based on 2021 start from $35,220 to $42,850. Apply here.
Wesley College
Address: 5 Gladstone Parade., Elsternwick Campus, Elsternwick VIC 3185 / 620 High St Rd., Glen Waverley Campus, Glen Waverley VIC 3150 / 577 St Kilda Rd., St Kilda Road Campus, Melbourne VIC 3004
Email: admissions@wesleycollege.edu.au
Opening hours: 8 a.m. to 5 p.m. (Mon. to Fri.) / 8 a.m. to 5 p.m. (Mon. to Fri.) / 8:30 a.m. to 5 p.m. (Mon. to Fri.)
2. Carey Baptist Grammar School
Established in 1923, Carey Baptist Grammar School comprises two main campuses in the city and desires to mould students into wise, independent and motivated young people inspired to create positive change in the world. Commonly known as Carey, this Christian institution is one of the international schools in Melbourne that provides a curriculum tailored to the interests and abilities of each early childhood to Year 12 pupil.
From Prep to Year 10, children will learn from the AusVELS framework that incorporates the Australian Curriculum and reflects Victorian priorities and standards. Then in Years 11 and 12, they will choose to continue with either the IB DP or the VCE. Carey also offers the option of Vocational Education and Training (VET) and University Acceleration programmes.
As one of Australia's leading co-educational schools, Carey is renowned for its academic excellence and high achievement. And with approximately 2,500 students, including international folks from over 30 countries, the environment at Carey is inclusive and culturally diverse. Currently, the school only accepts international student applications for entry to Senior School (Years 10 to 12).
Annual school fees for international students based on 2021 start from $38,154 to $39,232. Apply here.
Carey Baptist Grammar School
Address: 9 Era Ct., Donvale Campus, Donvale VIC 3111 / 349 Barkers Rd., Kew Campus, Kew VIC 3101
Email: admissions@carey.com.au
Opening hours: 8 a.m. to 5 p.m. (Mon. to Fri.)
3. Haileybury
Featuring five campuses in Australia (four in Melbourne and one in Darwin) and one in China, Haileybury is a global private school that offers its students the VCE curriculum. With over 125 years of history, this institution is acclaimed for its educational model, outstanding teachers and VCE results, and strong international focus. The class sizes at Haileybury are also small, meaning each student gets a high level of individual attention.
What sets Haileybury apart from the other international schools in Melbourne is that it follows the Parallel Education system. This academic model, which develops students to their fullest potential within separated co-education, has boys and girls attend the same institution but are split into single-sex classes, except for children in early learning to Year 4. As such, there's Haileybury College for male students and Hailey Girls College for female students, both offering early childhood to secondary school education.
With just a few vacancies available to international students at Haileybury, expat parents can expect stiff competition. But when your child does get accepted, rest assured that they'll be well-taken care of. The school has a Head of International Students who manages every aspect of student welfare. Plus, there is an Overseas Students Club that provides support for all international students.
Annual school fees for international students based on 2021 start from $27,285 to $45,675. Apply here.
Haileybury
Address: Multiple locations
Email: admissions@haileybury.vic.edu.au
Opening hours: See website
4. Preshil, The Margaret Lyttle Memorial School
Also known as The Margaret Lyttle Memorial School, Preshil is a co-educational school in Melbourne that teaches a progressive curriculum. Students are openly supported to challenge ideas, questions and conventional wisdom. They are also highly encouraged to form their own opinions and set their own goals to inspire creativity, critical thinking and independence.
As an IB Continuum School, Preshil offers the IB programme to pupils from kindergarten through to their secondary schooling at Year 12. And unlike other international schools in Melbourne, Preshil prides itself in putting kindness, compassion and social relationships at the centre of its curriculum.
Preshil spreads across two campuses in Melbourne – the Arlington campus houses the Kindergarten and Primary School, whereas the Secondary School for Years 7 to 12 is at the Blackhall Kalimna campus. It has a high ratio of teachers to students, and it has an open admissions policy. The school invites prospective families to attend tours and information sessions to find out more about Preshil, too, so don't miss this opportunity. What's more, the fees are significantly lower than most other private schools.
Annual school fees for international students based on 2021 start from $17,500 to $27,600. Apply here.
Preshil, The Margaret Lyttle Memorial School
Address: 395 Barkers Rd., Preshil, The Margaret Lyttle Memorial School, Kew VIC 3101
Email: registrar@preshil.vic.edu.au
Opening hours: 8:30 a.m. to 4:30 p.m. (Mon. to Fri.)
5. Deutsche Schule Melbourne
Deutsche Schule Melbourne (DSM) is an accredited German School Abroad in Melbourne that offers a bilingual education (German and English) for primary school children up to Year 6. Its curriculum consists of the Australian Curriculum and the Victorian Essential Learning Standards with adaptations from the Thuringian (German) curricula. So, not only does it ensure a smooth transition for those who may decide to transfer to another Australian or German school, but it also exposes students to both cultures in the classroom.
At DSM, all teachers are bilingual in German and English and speak both languages fluently. However, teachers only give lessons in their native language, whether it is German or English. The purpose for this is so that each language can be modelled by native speakers, thus minimising confusion and creating more opportunities for practice amongst learners. With German and English as the languages of instruction, students will learn to read and write in both languages concurrently, eventually becoming effectively bilingual and bicultural.
Presently, DSM is home to more than 100 students across 10 nationalities and 15 spoken languages, so you don't have to be exclusively German to apply. The school also provides extra help, such as remedial lessons, to support the acquisition of both languages. So if your child has little or no prior knowledge of either language, they would be able to learn it in a supportive environment.
Annual school fees for international students based on 2021 is $20,960. Apply here.
Deutsche Schule Melbourne
Address: 96 Barkly St., Deutsche Schule Melbourne, North Fitzroy VIC 3068
Email: stefanie.dietrich@dsm.org.au
Opening hours: 8:30 a.m. to 4 p.m. (Mon. to Fri.)
6. The Japanese School of Melbourne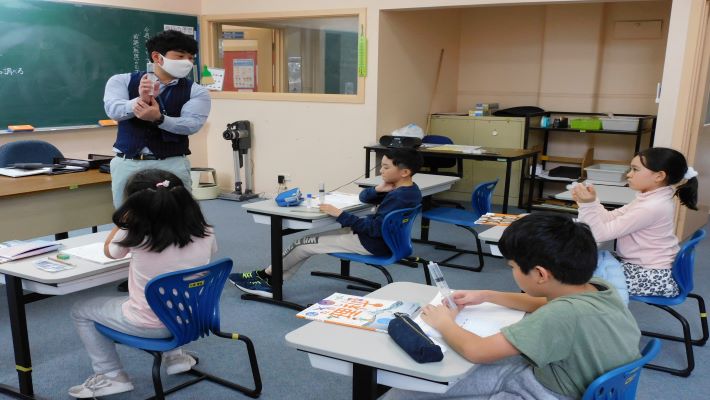 Compared to other international schools in Melbourne, where enrolment typically includes students across different nationalities, the Japanese School of Melbourne (JSM) tailors more towards Japanese expats residing in Melbourne.
Operating under the Japanese curriculum, JSM covers elementary and junior high school levels for children in Prep to Year 9. It also ensures that every child enrolled in the school will receive the same education as in Japan, including using the same textbooks and practising Japanese customs such as greeting etiquettes.
JSM's language of instruction is mainly Japanese, with over 90 percent of the coursework taught in the mother tongue. Despite that, this Japanese international school still includes English as a subject in its curriculum, so students can experience the language and won't neglect their development of English language proficiency. Therefore, if you're arriving from or returning to Japan, JSM's learning programme ensures an easy transition for your child.
Annual school fees for international students based on 2021 starts from $14,925 to $16,330. Apply here.
The Japanese School of Melbourne
Address: 6 Ellington St., The Japanese School of Melbourne, Caulfield South VIC 3162
Email: See website
Opening hours: See website
7. Caulfield Junior College
Caulfield Junior College (CJC) is home to the French-Australian School of Melbourne, where it offers the French Binational Programme (FBP). Since its beginning, FBP has provided students with the skills needed to enrol in either a French or an Australian secondary school. So those in this programme can expect to receive a bilingual, bicultural education based on the French and Victorian curricula from Prep to Grade 6.
Within the programme, a French and Australian teacher is assigned to each class and they alternate between days. As a result, kids will learn the foundations of reading, writing, problem-solving and the French language, amongst other subjects in the French curriculum. And they will pick up knowledge and skills through learning areas such as English and the Arts and capabilities like critical and creative thinking skills from the Victorian curriculum.
The CJC environment is culturally diverse, too, comprising over 28 nationalities in its student body. It even has a Hebrew Immersion Programme where it teaches your child Jewish cultural aspects and to communicate effectively in Hebrew through speaking, listening, reading and writing.
Contact the Admissions team for annual school fees for international students. Apply here.
Caulfield Junior College
Address: 186 Balaclava Rd., Caulfield Junior College, Caulfield North VIC 3161
Email: caulfield.jr.co@education.vic.gov.au
Opening hours: 8:30 a.m. to 4 p.m. (Mon. to Fri.)
Feeling ready to make the big move?
Head over here to begin your journey
Or start ticking off your relocation checklist here
Still unsure?
Learn more about Australia here
Explore more destinations here